As soon as I crossed the finish line of Cedar Point, people were asking "what's next?" I dodged the question for a few days, because I wanted to savor every moment of my post-race bliss (translation: I wanted to drink myself cross-eyed and eat all the carbs and dairy in the land without having to think about "race weight" or training the following morning). But the truth was I knew what was next, and some of you may have known too. Although I was relatively quiet about it, back in August I entered the lottery for a slot in the HURT100 and stayed up way past my bedtime frantically clicking the "refresh" button hoping I'd see my name pop up. When my name popped up I screamed. I cried. I was so happy. And slightly terrified.
I have a long history with HURT. Most of you remember I used to live in Hawaii, and the HURT trails came within a mile of my house. I volunteered at the 2008 HURT, paced for the 2009 and 2010 HURT, and then successfully finished the race in 2011 (pacing again in 2012). Although I was so proud to be one of few people (if I remember right something like 33% of starters finished) to finish the race back in 2011, I really wasn't well prepared for the race. I piggybacked off of back-to-back Ironman races and then did a few insanely long (40-60) mile trail runs on the weekend. I would beat myself up so badly on the weekends that it would take me three days to recover and then I'd be so unmotivated to do more than 3 miles during the week. So essentially my training was to destroy myself on Saturday/Sunday and then run 3 miles on Wednesday. Looking back, it's a miracle I finished.
This year, it's different. This year I want to seriously train for this race. I want to go into this race with as much preparation as I can. The problem is, how does one train for a January race in Hawaii when one lives in New England? The answer, my dear friends, is creativity.
HURT is unlike any other ultra. Some runners consider it the most technical ultra out there (a few years ago, thanks to some awesome sponsors, I had a phone conversation with a very popular, elite ultrarunner. When I asked him why he hasn't done HURT, he told me he was scared of how technical it was). Training for this race does not involve simply logging high miles on flat terrain. It does not mean simply going out for 6-7-8 hour trail runs on the weekends. Because with HURT, you're not training for a race. You're training for controlled suffering.
For me, I need three things to be successful at this race: 1) Mental and Physical Endurance. 2) Quads of steel and 3) Strong feet.  I have the physical endurance down pat. I'm very good at going extremely slowly for long periods of time. The mental endurance can be covered with the right pacers and crew, as it is their job to encourage you to head back out for one more 20-mile loop (the race is 5, 20 mile loops). Thankfully, since I lived in Hawaii and spent so much time with the HURT crew, I have a huge support network of Ohana ready to do all they can to cheer me on (although I'm still looking for pacers: listen up Hawaii folks!).  But #2 and #3: Quads of steel and strong feet? That's where creative training comes into play.
From my past experiences with HURT, I know that my sissy quads and tender feet add up to incredible amounts of pain on the downhills. When I finished the race, my feet were so sore from the impact of running (and swollen from fluid retention: I had gained 8+ pounds of water over the race) that the last five miles I was essentially yelling out labor pains with each step. God Bless my pacer Billy for pushing me forward.
So how am I going about training for Quads of steel and strong feet? My focus is on complete quad/feet annihilation. What I mean by that is I am doing workouts specifically designed to put as much stress on my quads and feet as possible. I'm simulating the long uphill climbs as well as the impact of descending and landing on hard rocks. My training is so different from triathlon training, but I'm loving every minute of it.
I'm dividing my training up into three phases: 1) Strength Building, 2) Strength and mileage building, 3) Mental breakthrough training. (Note: I'm self-coaching for this race).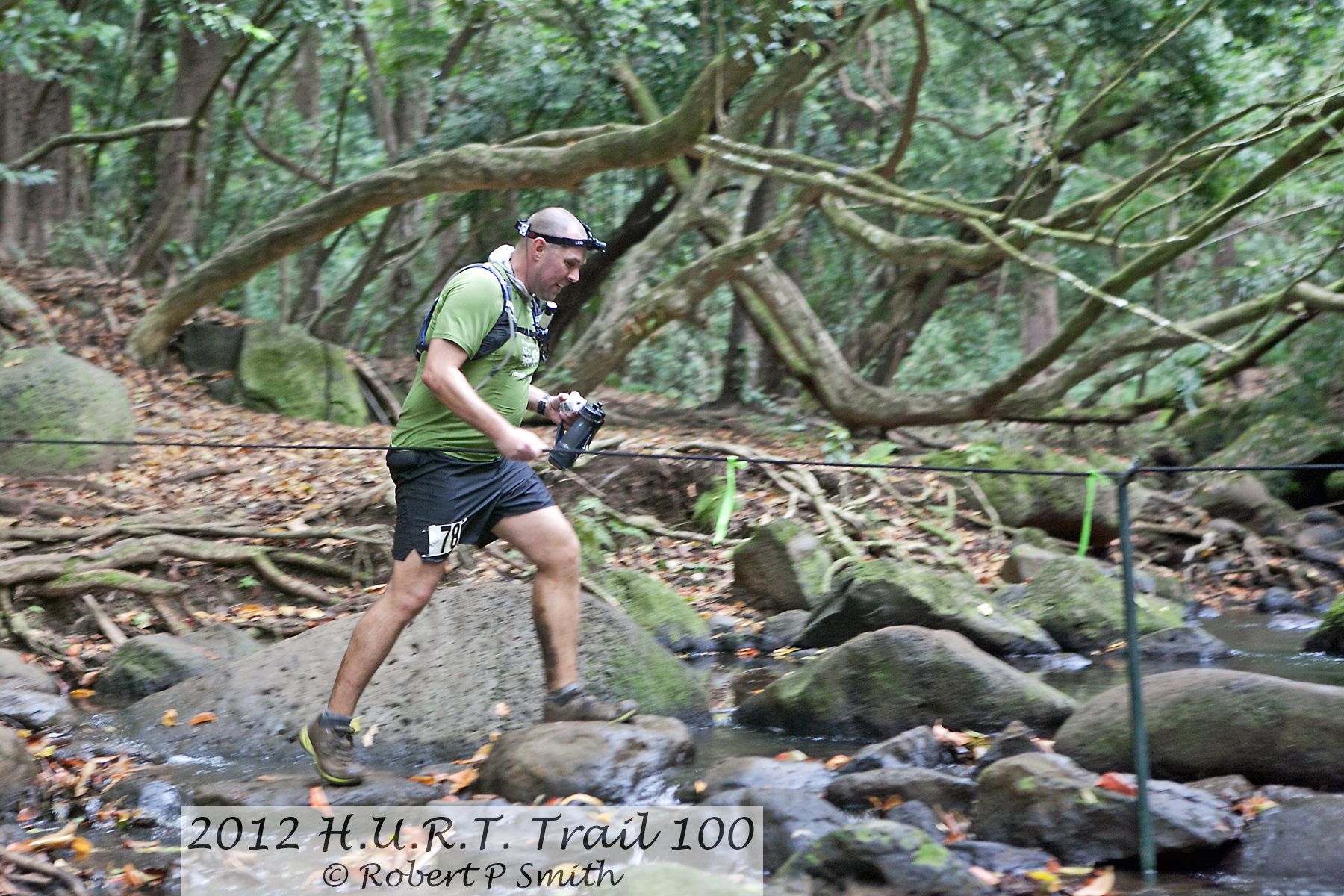 For the first phase, strength building, I'm not focusing on high mileage per say, but I'm focusing on building up the strength and resilience needed to endure the next few months of intense training. I'm doing long sessions on the stair climber at the gym followed by strength/plyometric sessions specifically designed to impact my feet, ankles and quads. I'm doing two of these sessions a week plus one long (6 hours or so) trail run/hike on the weekends. These three workouts are my key workouts. If, on other days, I wake up feeling good, I add in a 6-10 mile road run. If I wake up feeling tired or sore, I nix the road run. In the early phase of my training I have to be very careful about avoiding injury, especially since a lot of the strength exercises (which involve squats, lunges, jumps, one leg jumps, etc) are high-impact. As such, my main focus is to hit my three key workouts and listen to my body.
After a few weeks of this, once my body has adapted to the new stress, I'm going to add in hill repeat runs during the week to further strengthen my body and get used to running downhill. I'll also seek out flat trails to try to add in more "filler" miles during weekdays. But again—listening to my body all along the way and backing off the moment I start to feel twinges of injury.
In the final phase, I'll continue everything I've done before but add in back to back long runs on weekends. This means, for example, doing 6-8 hours on Saturday and head back out on Sunday for another 4-6 hours. These workouts should help simulate the feeling I'll have after loop 3 or 4 of the race, when I'm tired and struggling with heading back out for another 20 mile loop.
You might be thinking "this sounds awful!" but for me, it's so much fun. I love the difference between triathlon training and ultra training. The stuff at the gym is fun since it's new, but what I really cherish is my time on the trails. When I'm out on the trails, time simply vanishes. Even though I'm physically exhausting my body, it's so mentally, emotionally and spiritually restoring. What makes it even better is I have the best pacer on the planet: my dog Kaipo.
Kaipo is at his happiest out on the trails. He's come with me on long road runs, but on the trails I can let him off-leash (if we start early before the families arrive) and he will run a bit ahead, then circle back to me, always checking to make sure I'm okay. When I trip and fall, he whimpers and comes running to me. When he gets scared on some of the rock climbs, he'll whine for me and then I'll help show him the safe route up. I bought him his own pack so he carries his own fluids and trail treats, and I have safety lights on him for when we start in the dark. I also carry a human and canine first aid kit so that I'm ready for whatever we may encounter on the trails:
Spending so much time with Kaipo is probably what I like best about this new training. I hated leaving him alone all day on Saturdays when I would head out for long bike rides. But now? Kaipo can come with me on all my training (note that I'll only take him out for one of my long days in the final phase of my training). I didn't know it was possible, but I feel like we're growing even closer together. This may sound cheesy to you, but my love for him is growing with each passing day. And he's clinging to me tighter and tighter (as I type this now his head is planted firmly in my lap). All of you who are dog owners have already experienced this before, but since Kaipo is my first dog ever (never had one even as a kid), this is all so new to me. I am happy beyond words that I can finally train with him to give him the time he needs. It's obvious he's happy—I mean, look at these faces!
Those of you with canine companions, I hope you take the opportunity this weekend to go out and spend some quality time with your pup. Those of you without one? Take someone else that you cherish, go grab some fresh air and exercise, and soak up the beautiful outdoors. I hope everyone has a fantastic week and weekend of training!