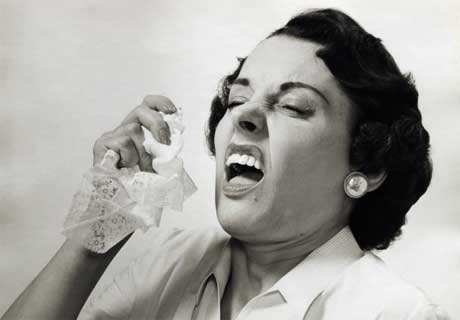 It's the start of a new semester on campus. So you know what that means—petri dishes, festering viral gyres, infectious wastelands.  As the students unload carfuls of belongings and move back into the dorms, they also bring with them viral strains from around the world. The viral strains easily take hold in the sleep-deprived, weakened immune system of coeds and start to spread across campus. Every doorknob I touch has likely been touched by thousands of students in a given day–thousands of germy, infectious students–so it was only a matter of time before I caught the campus contagion.
Typically my immune system is pretty hearty, and I manage to escape whatever malaise works its way throughout my office. But this time I wasn't so lucky. Perhaps it was from a doorknob. Perhaps it was from a faucet. Perhaps it was from the student who was sneezing and coughing two feet away from my lectern in class. Regardless of the cause, no amount of triathlon training could help me combat the infection.
Last Friday I woke feeling crummy, and headed to the store to get some zinc. I felt progressively worse as the day went on, and was eager to hit the sack early that evening. Saturday I woke early and convinced myself I was feeling better and justified continuing with my 6 hour trail run. I somehow made it through that workout but came home and crashed hard. Sunday I felt even worse. Monday I still felt junky, but tried to rationalize a 6 mile run. I completed the run, but came home to the worst GI distress I have ever experienced (still don't know why that happened). Finally, after multiple people saying "maybe all you need is a rest day", I took Tuesday off. I'll admit, I experienced HUGE amounts of "but my plan says I need to do THIS" guilt, but I sought reassurance from friends that rest was a good idea. And you know what? I think it helped. This morning I woke up feeling much better (although now it's moved down into my chest and I have a delightful mucousy cough) but I made it through 8 easy miles feeling great.
I know that I probably SHOULD take more than just one day off to fight this thing, and I should probably just stay at home and try to rest, but it's really hard for me to do nothing unless I'm truly sick. For me, that's defined by a fever. I've been obsessively taking my temperature and it's normal, so my brain keeps telling me I SHOULD keep working and I SHOULD keep training. Why do we type A athletes always do this to ourselves?
How do you handle being "sort of" sick? What's your criteria for rest days?